Grand Suede Business Cards Super Luxury Business Cards Opuleaf Luxe Business Cards
Business Cards
We've been printing business cards here in Glasgow since 1999. It's the most enduring print product – regardless of what new technology comes along, business cards remain one of the most popular products.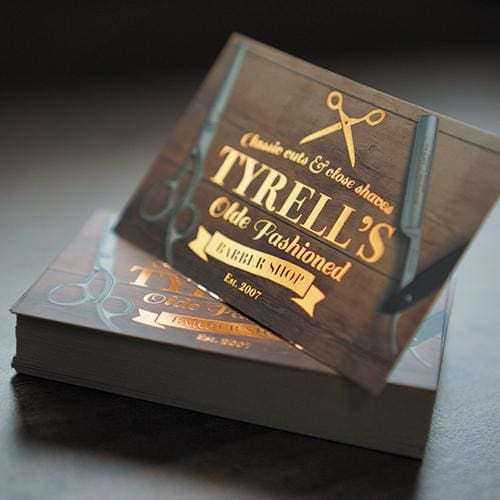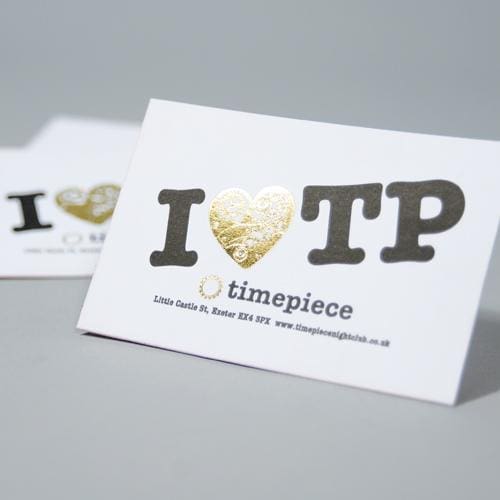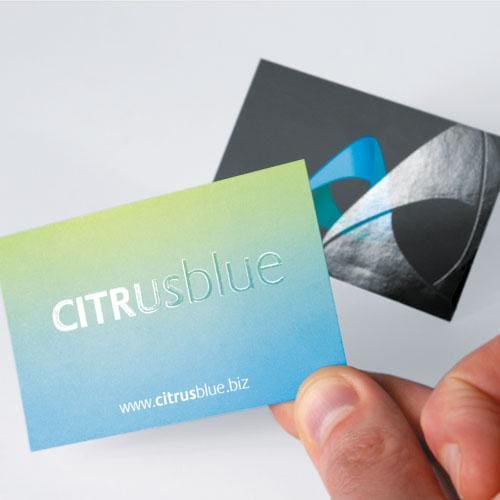 It's not just business meetings and networking events that cards are useful for. If you're a tradesman, leave some cards with your customer for future jobs. Restaurants and bars include them with the bill to encourage revisits. Hairdressers, beauticians and similar businesses use them as appointment reminders. The uses are endless, but there's no doubt that they work.
Often we find that customers need cards quickly, and we're happy to oblige! Our digital business cards – including those with gloss or matt laminate – are available within 4 hours if you've got the artwork. We can even fire up the big presses and get you litho business cards next-day on our SOS service. If you're not in a rush, we can put you on standby service level and save you money on your printing.
It's up to you. You can supply us with print-ready artwork and we'll happily work with that. If you don't have artwork, you can design online using our business card templates:
If you want to stand out, we'll custom design business cards to your brief. This isn't even expensive – an original design from one of our Glasgow based designers is only £29.
UK First for Business Cards!!

Digital Business Cards
There is a massive range of business card styles to choose from. Our entry-level cards are a fantastic standard – digitally printed full colour both sides on a luxurious 400gsm silk artboard. Prices for this product start from £25.

Grande Suede Business Cards
Our most popular business card is the Grand Suede. You really can't get more "bang for your buck" in Business Card printing. It's litho printed full colour both sides as standard, and the 450gsm board makes it more rigid than a usual card. It's finished with soft-touch laminate – this is the top of the tree in printing laminates and unsurprisingly could be likened to suede! You can get 250 of this high-end business card for just £49

BIO-Laminated Business Cards
Want laminated cards but are concerned about them being damaging to the environment? We're the first UK printer to use bio-laminate. This radical product degrades completely once disposed of, and within 2 years it composts and is completely gone. The finish is as good as any other matt or gloss laminate however – no compromise. There's no price premium either – the price is the same as the previous non-degradable product, and starts from £46 for 250.

Spot UV Business Cards
Sometime you really want to stand out!  …or at least you want your business cards to stand out! Spot UV overlays areas of gloss varnish on top of our bio-laminate, making the design of your cards pop. There's lots of ways to make this work – probably best just to get in touch to discuss.
Super luxury business cards
The market for super luxury business cards is growing all the time. There are so many variations of cards, it's probably best to get in touch with us to go through all the options – give us a call or live chat.
Metallic Foiling – gold, silver, copper, white – virtually any colour you can think of

Duplex and Triplex boards up to 1000gsm+

Letterpress printing

Embossing and debossing
While the above are custom cards aimed at the very premium end of the market, we have a range of high-end business cards that offer some of the premium features in a standard product at very competitive prices.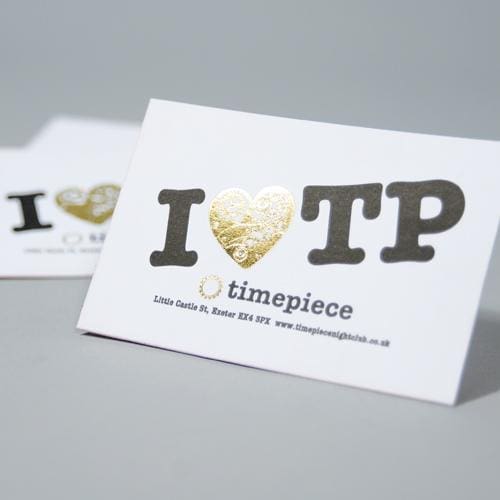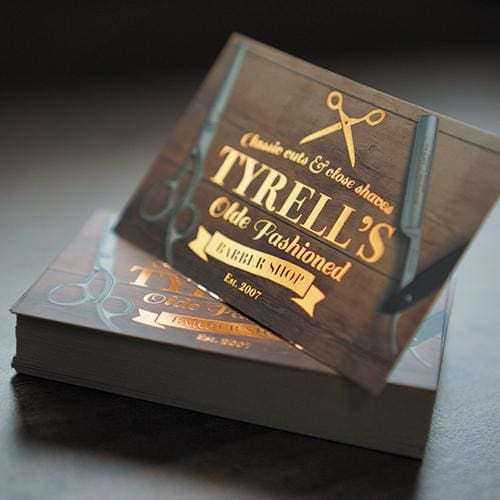 Our Opuleaf Luxe business cards combine copper, gold or silver foil and bio-laminate with full-colour printing on a 400gsm card, with prices starting from £198 for 250
Our XO opuleaf card uses a heavyweight 700gsm smooth uncoated board with gold or silver foil and full-colour printing to give a very contemporary high-end look. Unlike most cards on the market with this kind of spec, prices start from only £160 for 50.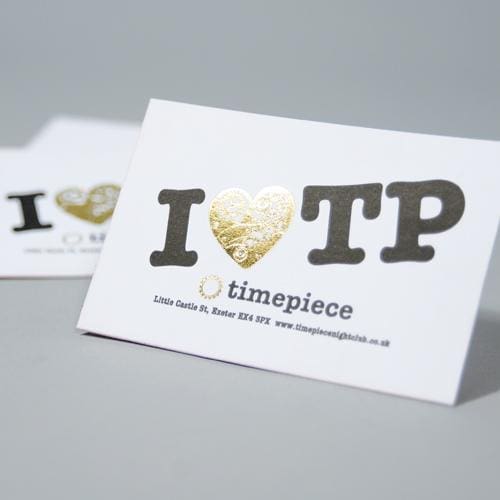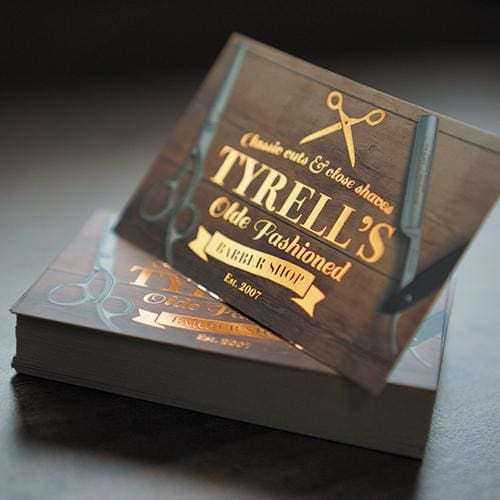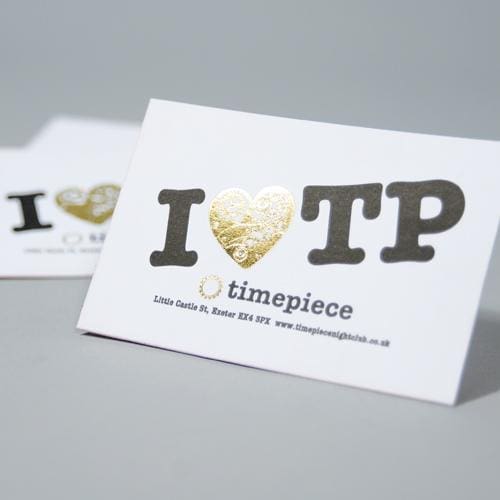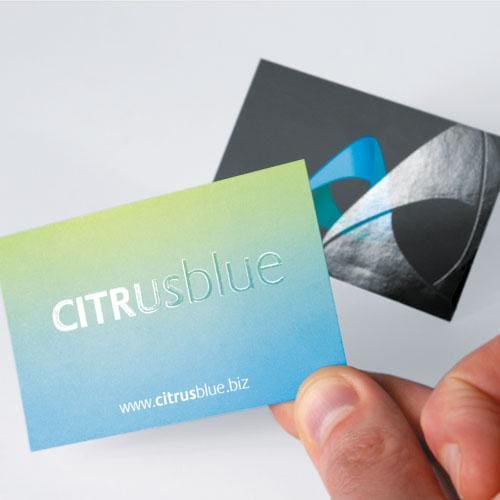 See the full range of all the business cards we offer here. There are even more styles and finishes than have been mentioned above.
If you're not sure what type of business card to go for, or finding all the options on offer confusing, just get in touch. Give us a call, pop into the studio, or live chat